The Martin Freres Vintage Models: LaMonte Grenadilla Bb Clarinets
The LaMonte model name is a Martin Freres brand of woodwinds which includes a series of student, intermediate and entry-level professional Bb, Eb Sopranino and Key of A clarinets, manufactured in France from 1940 through the mid 1960's.  The LaMonte brand was also marked on a line of flutes and saxophones of the era.
The Bb Clarinet models include the LaMonte Arrow, LaMonte model 1 and LaMonte model 2.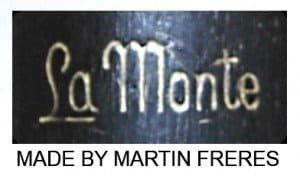 LaMonte Model 1  (Cursive Maker's Mark):
The LaMonte Model 1, manufactured of Grenadilla wood, between 1940 and 1950, uses cursive lettering in the brand name. The LaMonte Model 1, was manufactured by Martin Freres Paris and imported to the US primarily for the US military bands before and during World War II. Its little brother, the hard-rubber version of the same clarinet, was also produced during that period.
The clarinet has a focused tone which is a bit on the darker side. The key-work is excellent (the clarinets outfitted with reinforced posts slightly better in that aspect than the earliest pieces which did not have reinforced posts),  the action is fairly balanced, fluid and the intonation is outstanding. With a custom-tuned barrel and the right mouthpiece, the LaMonte Model 1 could be considered an entry-level professional clarinet by today's standards. Estimated production over the lifetime of the product is 18,000 clarinets.
The collector value of this clarinet model strengthens the instrument-quality value as not only was this clarinet in limited supply,  to this day it is sought after by World War II memorabilia collectors (provided historical paperwork accompanies the clarinet).
The estimated Retail Value of the LaMonte Model 1 clarinet can be described as:
Used Parts Only to Poor Condition $75US – $199US
Used Fair to Good Playable Condition $200US – $449US
Used Very Good Playable Condition $450US – $598US
Used Excellent Playable Condition $599US – $749US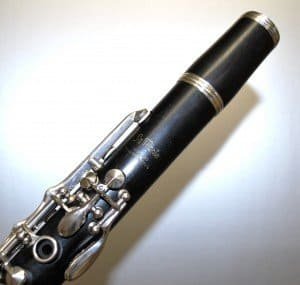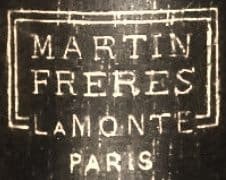 LaMonte Model 2  (Rectangular Maker's mark):
The LaMonte Model 2, manufactured from 1951 – 1966, was a very popular clarinet by Martin Freres Woodwinds (and distributed by Buegeleisen and Jacobson). There were an estimated 40,000 units produced. The clarinet has a rich, sweet, focused tone with good fluid action and excellent intonation. The key-work is considered "soft" and therefore requires frequent adjustments. This clarinet is best suited for the intermediate level musician.
The estimated Retail Value of the LaMonte Model 2 clarinet can be described as:
Used Parts Only to Poor Condition $75US – $99US
Used Fair to Good Playable Condition $100US – $149US
Used Very Good Playable Condition $150US – $349US
Used Excellent Playable Condition $350US – $499US