Advanced Student Bb Clarinet Made of Honduran Rosewood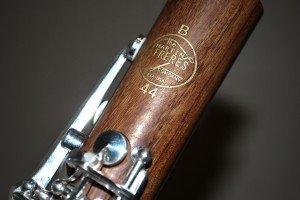 The Martin Freres Model B-44 Honduran Rosewood Bb Clarinet is an easy blowing clarinet with great projection and superior acoustics.
The Silver-Plated keys have excellent, fluid action and the intonation is outstanding.
This Advanced Student instrument has a silvery, rich, focused tone and PLAYS BEAUTIFULLY in all registers!
FEATURES:
17-Key, 6-Ring, Silver-Plated
Made of Instrument-Quality Honduran Rosewood
Adjustable Thumb-Rest
Steel Springs
Premium Pads
Conical Bore
INCLUDES:
B44 Boehm System Rosewood Bb Clarinet
Hard Shell Wood/Leather Clarinet Case
Mouthpiece
Mouthpiece Cover
Ligature
Reeds
Martin Freres Company clarinets are Band Director Approved for all USA Band situations.
Click on Photos to Enlarge Image: