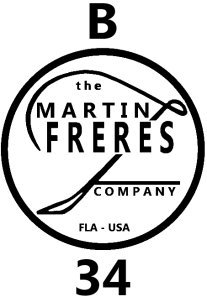 The Martin Freres Model B-34 Bb Clarinet is an Advanced Student System which starts with the essentials for the beginning student. Then as the student progresses, the clarinet can be economically outfitted with optional tuning barrels and bells advancing the instrument along side the student up to the collegiate level.
Designed to withstand changes in climate without significant acoustical changes, the B-34 Bb Clarinet is the choice of those who need to play their clarinet outdoors. With water resistant pads, synthetic cork and lacquered keys, you're ready for whatever Mother Nature brings during Marching Band Season. The excellent focus and projection in the tone of the B-34 makes it great for chamber music, orchestra and ensemble work.
With finer lines, precision post, spring and key-work, fluid action and superior intonation, the B-34 Bb Clarinet can be accessorized for students at all levels. Those who have organized playing experience and have come to expect superior tone and timbre from their instrument will not be disappointed!
Adults who are just beginning or who are returning to the clarinet after some period of time can also benefit from this advanced system.
The B34 comes in three styles: B34S (Student), B34 (Standard) and B34A (Advanced).
The B34S has its keys adjusted for smaller hands.
The B34 has its keys adjusted for standard adult key spacing.
The Model B-34A (shown left) includes a hand-turned, professional grade, Cocobolo Wood, Timber-Matching clarinet barrel which provides high-quality, advanced performance acoustics!
THE B-34 OUTFIT INCLUDES:
Model B-34 Student 17-Key, 6-Ring Nickel-Plated Bb Soprano Clarinet
Soft Case with Plush Interior
Mouthpiece Kit (MP, MP Cover, Ligature, 2 Reeds, Reed Holder)
Cleaning Swab
Cork Grease
Model Options:
B34: Standard; adult key spacing
B34S: Student; keys adjusted for smaller hands
B34A: Intermediate; Cocobolo Wood, Professional custom-tuned Clarinet Barrel
Further advance the timbre by adding optional Grenadilla wood barrels and bell.