Made of Grenadilla wood, the Martin Freres Paris 1740 Model 1 A, Bb, C and Eb clarinets were manufactured between 1946 and 1968. These clarinets were manufactured in limited quantities and for limited periods of time during the nearly 20 year manufacturing lifespan.
The Model 1740 (cursive maker's mark and sometimes engraved with the 'Concorde' label) were made in France by Martin Freres as step-up intermediate to entry-level professional clarinets.
1740 Model 1 Clarinet Value (Bb)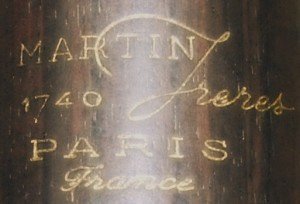 The estimated Retail Value of the 1740 Model 1 clarinet can be described as:
Used Parts Only to Poor Condition $75US – $149US
Used Fair to Good Playable Condition $150US – $449US
Used Very Good Playable Condition $450US – $599US
Used Excellent Playable Condition $600US – $800US
For more information feel free to contact our staff at service@MartinFreres.net
*Please note that auction prices may be as much as 50% off retail depending on the market conditions.